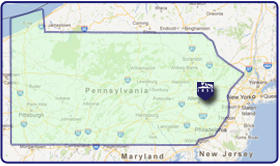 Campus Facts
Housing
Apartments and privately owned housing are available within driving distance to the campus.
Sports
Division/Conference

Penn State University Athletic Conference (PSUAC)
United States Collegiate Athletic Association (USCAA)
Varsity Sports:

Basketball, Cross country, Golf, Tennis
lv.psu.edu/Athletics
Penn State Lehigh Valley
Now in a new, larger location, Penn State Lehigh Valley is excited to be able to offer expanded opportunities to the more than 800 students who enroll each year. The new location provides updated facilities and more classroom offerings, while still providing access to the thriving, dynamic Greater Lehigh Valley area and easy access to major cities like New York and Philadelphia.
Privately-owned off campus housing is available nearby.
---
Visit Penn State Lehigh Valley
Prospective Students (First Year, Transfer, Change of Campus, and Adult Learners)

This visit is for any student interested in attending Penn State Lehigh Valley. This includes prospective and accepted first year, transfer, change of campus, and/or adult learners.

Accepted First-Year Students

For high school students who have received an offer of admission to Penn State Lehigh Valley.

There are currently no scheduled events of this type.

View all Lehigh Valley events and visit programs

Space may be limited. Please register in advance to reserve your seat.

---

Video

---

Academic Information

Campus Majors

Majors Completed at Penn State Lehigh Valley:

Penn State Lehigh Valley offers 5 baccalaureate degrees and 3 associate degrees that can be completed in their entirety at Penn State Lehigh Valley.
Campus Major Listings

2+2 Plan:

Penn State Lehigh Valley offers the first two years of nearly all of Penn State's more that 160 baccalaureate programs that can be completed at Penn State University Park or other Penn State campus locations.
Penn State Major Listings

2+2 Plan- Learn More